Top 10 Comic picks for this weeks final order cutoff 
in this weeks top 10 we start off with IDW's amazing Teenage Mutant Ninja Turtles Ongoing series. We just had to throw the avengers in especially the King In Black Cover that art work by Cory Smith is amazing, Skottie Young is still at it with his amazing covers, 


TMNT ONGOING #116 CVR A SOPHIE CAMPBELL
IDW PUBLISHING


(W/A/CA) Sophie Campbell


It's the battle of the bands... of the century! As Jennika decides whether she weighs harmony over revenge, a musical brawl of epic proportions against Bebop and Rocksteady will have major ramifications on time itself
https://nerdpharmaceuticals.ca/products/copy-of-tmnt-ongoing-116-cvr-b-eastman?_pos=4&_sid=5cb05fd6c&_ss=r
HAHA #4 (OF 6) CVR B SHEA (MR)
IMAGE COMICS


(W) W. Maxwell Price (A) Patrick Horvath (CA) Michael Shea


"GUSTAV IN THE WORLD OF FLOATING OBJECTS"
A wise clown once said that everything floats...and he was right.
The comic book with a literally laughable title drifts into the big, blue sky with an issue hand-painted by watercolorist PATRICK HORVATH
https://nerdpharmaceuticals.ca/products/copy-of-monstress-33-mr-4-21-2021?_pos=2&_sid=73f6f82bf&_ss=r
ALIEN #2 HANS VAR


MARVEL COMICS


(W) Phillip Kennedy Johnson (A) Salvador Larroca (CA) Stephanie Hans
THE RETURN TO EPSILON!
•  Cruz has only one chance to save his son from the horrific fate he barely escaped.
•  The clock toward total collapse is ticking.
•  The aliens are loose.
Parental Advisory
https://nerdpharmaceuticals.ca/products/copy-of-alien-1-gleason-var-03-24-2021?_pos=7&_sid=5ccab33f9&_ss=r
AVENGERS #45 KING IN BLACK
MARVEL COMICS
(W) Jason Aaron (A) Luca Maresca (CA) Cory Smith


THE AVENGERS JOIN THE BATTLE AGAINST THE KING IN BLACK!
The year's most epic event explodes in the pages of AVENGERS. The vampire hunter Blade has been at the forefront of the fight against the dark symbiote god, but now he must pay a dark price that will change his world forever.
Rated T+
https://nerdpharmaceuticals.ca/products/copy-of-amazing-spider-man-64-pacheco-reborn-var?_pos=1&_sid=f852d9fc3&_ss=r
CATWOMAN #30 CVR B JENNY FRISON CARD STOCK VAR
DC Comics


Writer:
Ram V,
Artist:
Fernando Blanco,
Cover Artist:
Jenny Frison
The Riddler revealed that he knows details about Poison Ivy's whereabouts. Now, after the Riddler has been gravely wounded, Catwoman brings him to be patched up by Alleytown's lessthan-scrupulous medics. Now on the mend, Riddler points Selina in Ivy's direction—but is he telling the truth, or wrapping her up in another one of his riddles? Meanwhile, the Penguin's come to realize that enlisting Father Valley to take out Catwoman may have been a mistake and finds himself asking whether he hired a hit man...or inked a deal with the devil himself.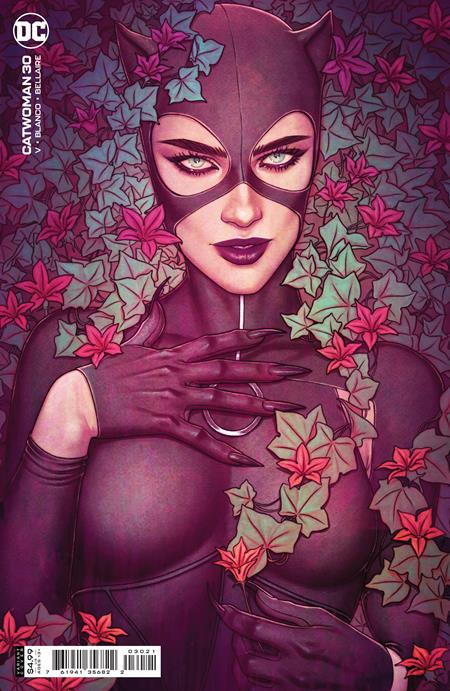 https://nerdpharmaceuticals.ca/products/copy-of-catwoman-30-cvr-a-joelle-jones-4-20-2021?_pos=6&_sid=7cd97d696&_ss=r
POWER RANGERS #6 CVR E 15 COPY INCV DI NICUOLO (C: 1-0-0)
BOOM! STUDIOS


(W) Ryan Parrott (A) Francesco Mortarino (CA) Daniele Di Nicuolo


* The New Power Rangers have formed an uneasy alliance with Lord Drakkon...but now must trust Astronema and Ecliptor in order to survive.

* But do the would-be Princess of Evil and her mentor have something else planned for their new allies?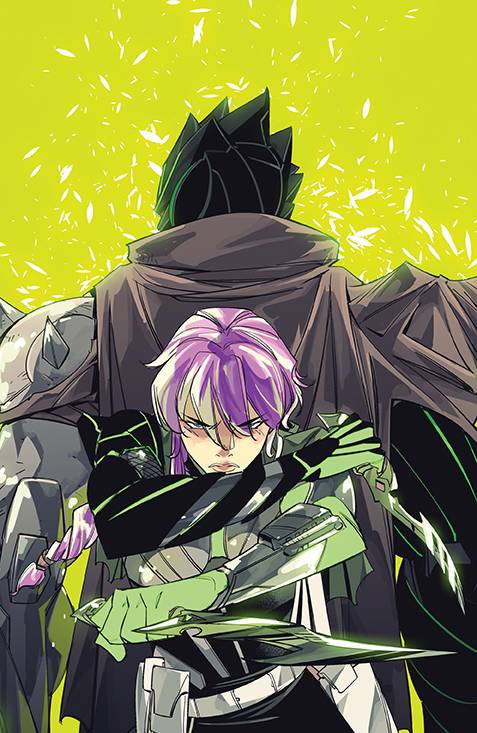 https://nerdpharmaceuticals.ca/products/copy-of-power-rangers-6-cvr-d-1-in-10-incv-scalera-c-1-0-0-04-21-21?_pos=7&_sid=86566aff1&_ss=r
BATMAN BLACK AND WHITE #5 (OF 6) CVR B JENNY FRISON VAR
DC Comics


Writer:
Various,
Artist:
Various,
Cover Artist:
Jenny Frison
The penultimate issue of the acclaimed return to Batman Black & White is here with a look at some of Gotham City's most twisted and compelling souls. Superstar Batman artist Jorge Jimenez writes and illustrates a story starring Bruce and Damian Wayne as they try to prepare for a sting operation as Batman and Robin, with Damian questioning Bruce's methods every step of the way. Multiple Eisner Award-winning writer of Detective Comics Mariko Tamaki and fanfavorite artist Emanuela Luppachino show what's become of Gilda Dent, former bride of Two-Face and current scourge of supervillains. Jamal Campbell, acclaimed co-creator of Naomi and Green Lantern Jo Mullein from Far Sector, tells a story that spans the full history of Nightwing. Kieron Gillen and Jamie McKelvie, the celebrated team behind Phonogram, Young Avengers, and The Wicked + the Devine, make their DC debut with a story that pits Batman against the Riddler in a way you've never seen before! And finally, legendary comics artist Lee Weeks writes and draws a story that has the ghosts of Jim Gordon's past coming back to haunt him!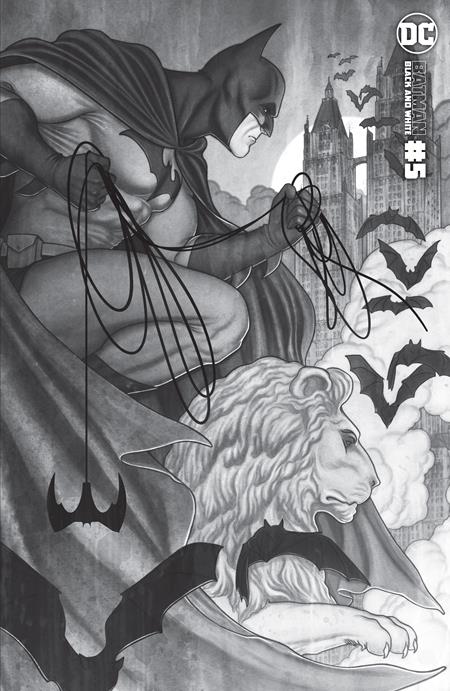 https://nerdpharmaceuticals.ca/products/copy-of-batman-black-white-5-of-6-cvr-a-lee-weeks-4-27-2021?_pos=4&_sid=f4fd29cda&_ss=r
WAY OF X #1 YOUNG VAR
MARVEL COMICS


(W) Si Spurrier (A) Bob Quinn (CA) Skottie Young


THE WAY TO THE FUTURE OF X!
Mutantkind has built a new Eden... but there are serpents in this garden. Some mutants struggle to fit in. Some mutants turn to violence and death. And the children whisper
of the Patchwork Man, singing in their hearts...Only one mutant senses the looming shadows.
Snared by questions of death, law and love, only NIGHTCRAWLER can fight for the soul of Krakoa. Only he - and the curious crew he assembles - can help mutants defeat their inner-darkness and find a new way to live. The WAY OF X.
SI SPURRIER (X-MEN LEGACY) and BOB QUINN (CAPTAIN AMERICA) push the frontiers of Krakoa in this unmissable entry into the bold new REIGN OF X.
Rated T+
https://nerdpharmaceuticals.ca/products/copy-of-way-of-x-1-vicentini-wraparound-var-foc-03-29-21-in-store-04-21-21?_pos=4&_sid=d069a7ecc&_ss=r
MIGHTY VALKYRIES #1 (OF 5)
MARVEL COMICS
(W) Jason Aaron, Torunn Gronbekk (A) Mattia De Iulis, Erica D'Urso (CA) Mattia De Iulis
JANE FOSTER GETS A FRESH START - AND ALLIES BOTH NEW AND OLD!
Jane Foster believed she was the only Valkyrie left - but the fight against Knull, the King in Black, proved her wrong. Now the Valkyries must redefine their roles in a changing world - and Asgard's not going to make it easy. When Loki comes to Jane with rumors of a beast stalking the souls of Midgard, she leaps into action - but she's not the only one after the strange wolf's hide. She'll need backup...but her ancient coworker has other priorities. Years ago, the warrior made a promise to a woman she loved. And now, it's time to follow through. Get the real story behind the Marvel Universe's newest star - and don't miss the start of an all-new epic adventure from powerhouses Jason Aaron, Torunn Grønbekk and Mattia de Iulis!

Rated T+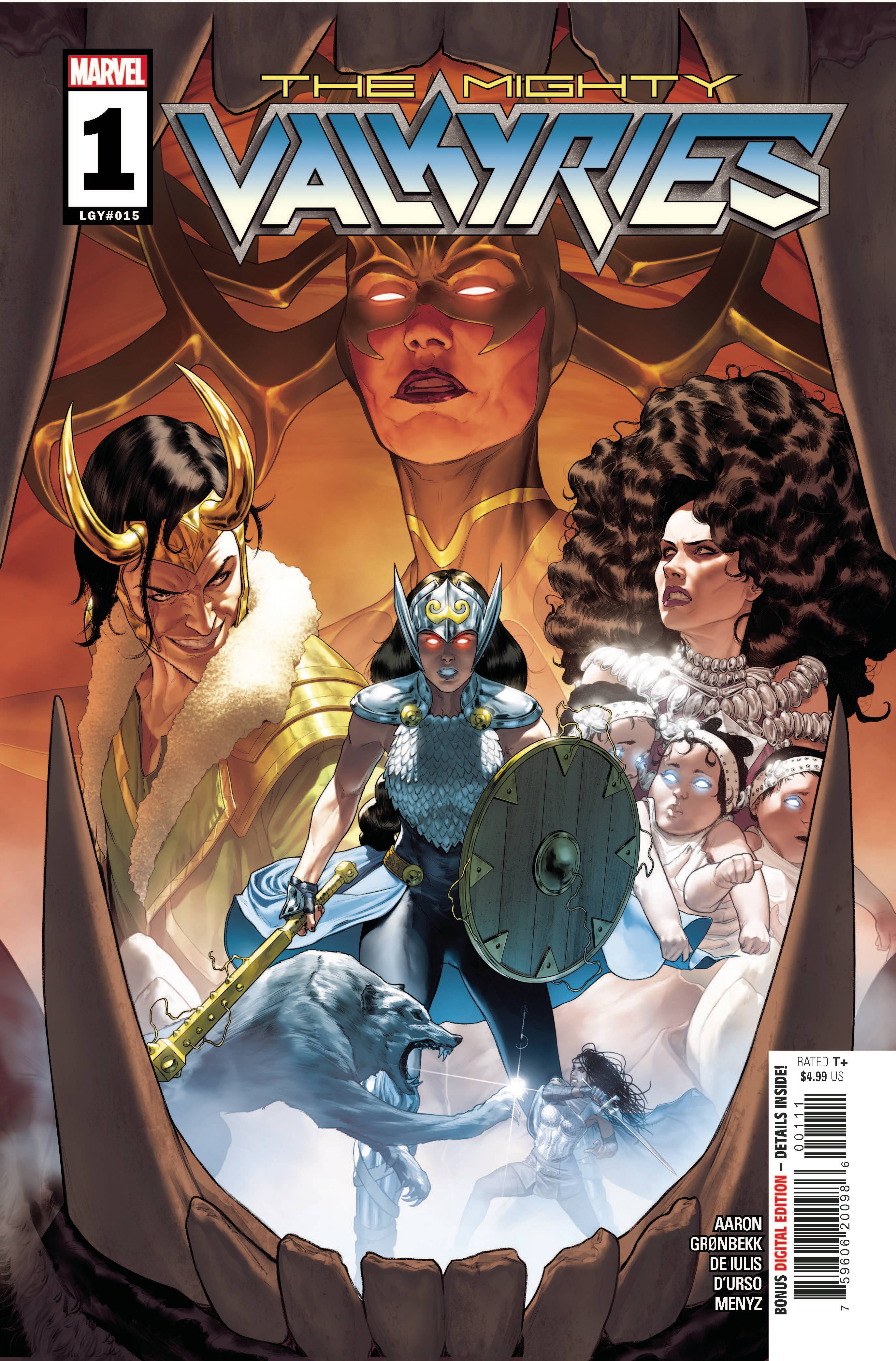 https://nerdpharmaceuticals.ca/products/copy-of-eternals-4-ribic-design-var-1-in-10-foc-03-29-21-in-store-04-21-21?_pos=8&_sid=473f354f1&_ss=r
WOMEN OF MARVEL #1 WOLF VAR
MARVEL COMICS
(W) Natasha Alterici, More (A) Eleonora Carlini, More (CA) Maria Wolf
WHO RUNS THE WORLD? YOU ALREADY KNOW. CELEBRATE THE WOMEN OF MARVEL WITH AN EXTRAVAGANZA OF EXTRAORDINARY TALENT!
The future is female! Get in on the ground floor with this amazing assembly of writers and artists from all over entertainment. Comics legend Louise Simonson kicks things off with a must-read introduction! Nadia Shammas punches the glass ceiling with the Jade Giantess! Elsa Sjunneson grits her way to the front line with Captain Peggy Carter! Sophie Campbell goes feral with a bone-grinding Marrow story! Video game-and-comics writer Anne Toole makes her Marvel debut in a blaze of glory! Natasha Alterici of Heathen fame charges sword-first into the Marvel Universe! With astonishing art from new and established artists Kei Zama (Transformers, DEATH'S HEAD), Eleonora Carlini (Power Rangers, Batgirl), Skylar Patridge (Resonant, Relics of Youth), Joanna Estep (Fantastic Four, Fraggle Rock) and more, you're sure to come away powered up and ready to slay - in high heels and boots alike.

ONE-SHOT/Rated T+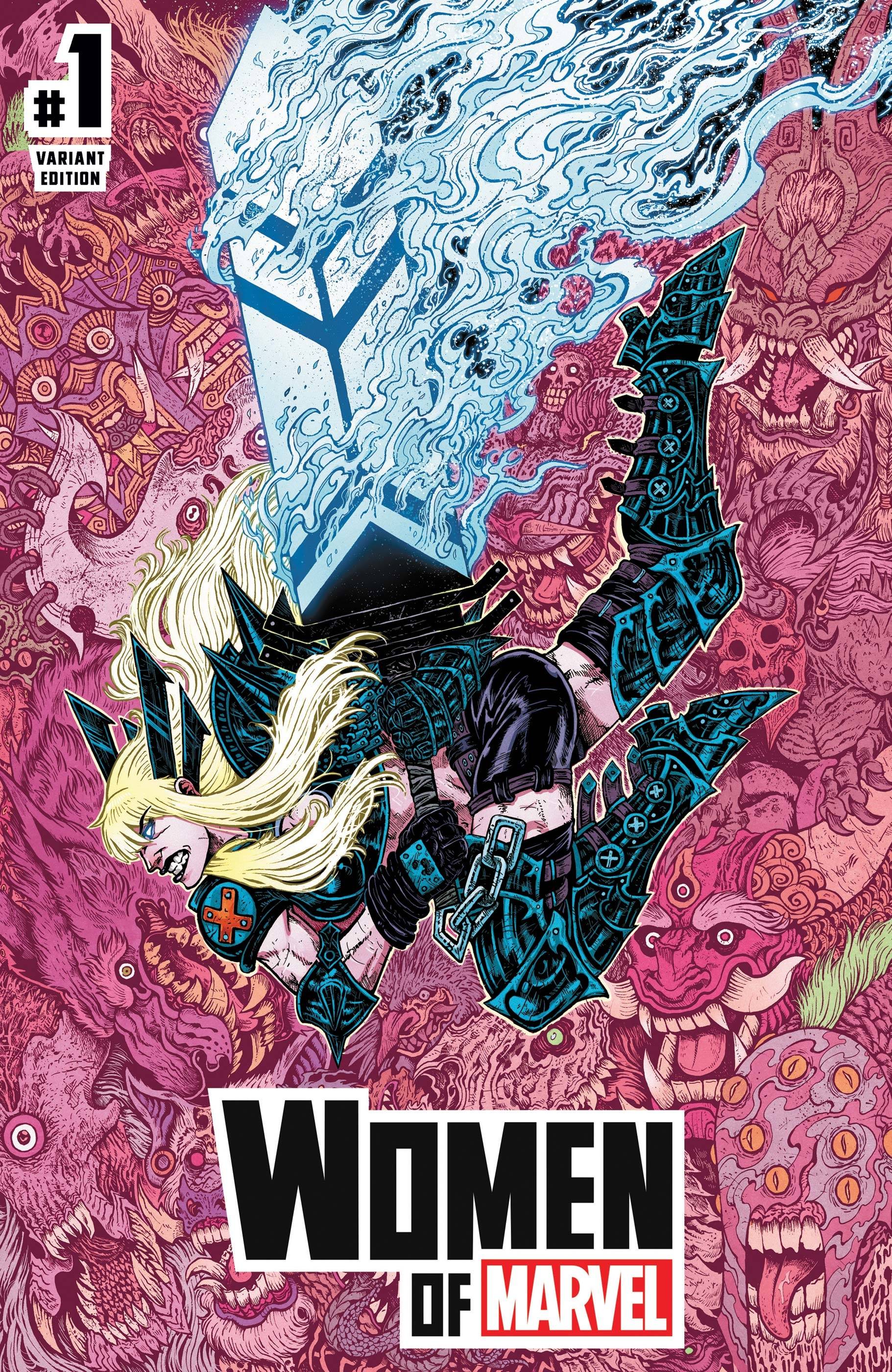 https://nerdpharmaceuticals.ca/products/copy-of-women-of-marvel-1-momoko-var-foc-03-29-21-in-store-04-21-21?_pos=2&_sid=a1f73f5de&_ss=r

so many great books this foc it was hard to choose just ten, we hope you liked our list, Stay tuned for more regular FOC Picks 

Follow us to stay updated on new releases, exclusive comics and more!!

Facebook 
https://www.facebook.com/nerdpharmaceuticals

Instagram 
https://www.instagram.com/nerdpharmaceuticals/

Twitter 
https://twitter.com/NerdPharmac